Our identity can be defined, both broadly
and specifically, by our very name.
The word "Indigenius" in Indigenius Cuisine is a portmanteau of two words. First, the word "indigenous," which is defined as "originating or occurring naturally in a particular place; native." Second, the word "genius," which is defined as "a personification or embodiment, especially of a quality or condition."
In every dish we prepare, Indigenius Cuisine sets out on a mission to redefine what it means to be a fine dining catering company. Our goal is for our clients and customers to tell us that we've lived up to the expectations we set for ourselves in our name. And every time we cater an event, the smiles on the faces of our clients and customers inform us that we have.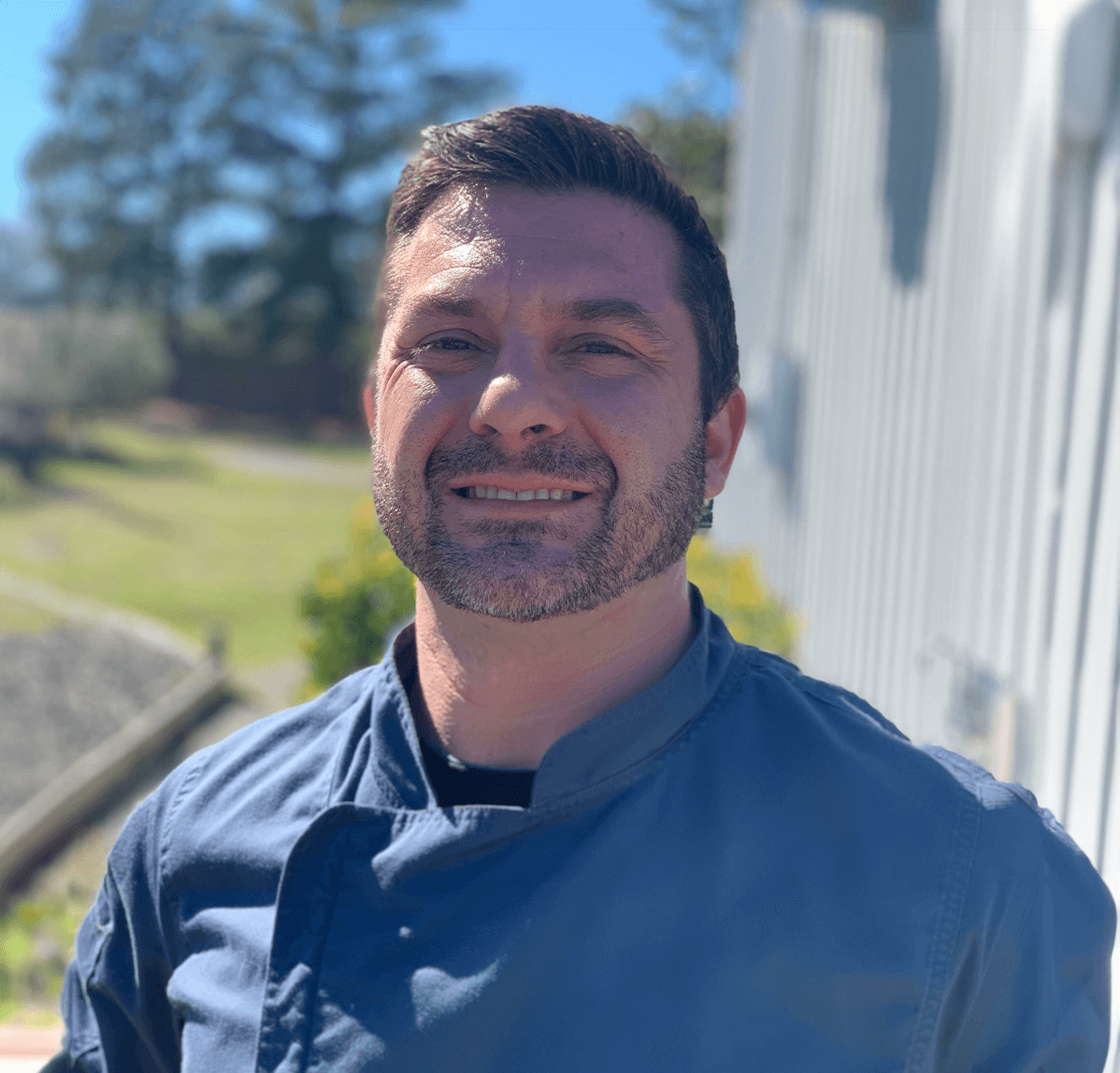 Roland Feldman
Chef
Born in Charleston South Carolina, Roland grew up on the Stono River, where he developed a deep affection for Low Country heritage and cuisine. He began his career in a family friend's local seafood restaurant before moving up the ladder to the local Charleston institution Magnolia's. It was there that he realized his affection for fine dining and southern cuisine. When the time came to leave for college, he knew that he wanted to explore a new part of the country, so he relocated to Denver, CO where he attended Johnson & Wales university. In Denver, he found himself in the company of a multitude of great chefs, including Troy Guard, a protégé of Roy Yamaguchi, as well as Chef Jennifer Jasinski of Rioja restaurant, Wolfgang Puck's protégé.
After spending several years in Denver, Chef Roland returned home to Charleston, where he re-entered the Lowcountry workforce at Charleston's famed Relais & Chateaux property Peninsula Grill. He then founded Smoke BBQ food truck, growing the business into two successful Charleston restaurants, before at last settling down and working exclusively as a Private Chef & Events Coordinator.
Our staff at Indigenius Cuisine includes a range of servers, bartenders, cooks, and dishwashers. To us, every individual on our team is an integral part of our company family; we would not be the diversely experienced company that we are without each member of our staff. We make the investment to train our staff in order to ensure that every member of our company not only understands how to serve but what true "service" is. As a company in the service industry, that is precisely what we are here to provide our guests. You can get solid meals from a lot of places in Charleston, but our team distinguishes itself by providing peace of mind to our guests by tending to their every need.
Our Commitment
Indigenius Cuisine commits to sustainability and the earth; we are constantly striving to provide our clients with a greener option in catering. We love the city of Charleston, as well as the swamps, fields, and oceans that surround us. Our disposables are only made of compostable vegetable-based products, and our kitchen recycles plastic, glass, cardboard, oil, and food scraps. We are proud to serve only cage-free eggs, natural chicken, heritage pork, and local beef, and our fish and seafood are sourced locally and caught in the wild. Even our fry oil is local and organic. Our close relationships with local farmers allow us to bring the finest and freshest quality ingredients to your event. In other words, Indigenius Cuisine brings you true farm-to-table meals unlike any other caterer in Charleston.
Our mission is to create exquisite dining experiences for social and business events.
Our duty is to implement ecologically sustainable practices into all aspects of our mission.
And our objective is to bring fine dining to every event we create.
For each of our clients, their particular event is the most important event we've ever catered to, and thus we treat each individual and their occasion as if it was our own. Food is often the center of gatherings and is a tool to bring us all together, and we see it as our responsibility to provide some of the best food our clients have ever tasted. We've been doing so since 2015, and we're even willing to share a little secret: care and love are two of our most valuable ingredients.
"If you really want to make a friend, go to someone's house and eat with him… the people who give you their food give you their heart."
-Cesar Chavez
Indigenius cuisine
Frequently Asked Questions
WHAT IS A PERSONAL CHEF SERVICE?
A personal chef service is a professional culinary service that offers a convenient and personalized approach to dining, allowing you to enjoy restaurant-quality meals in the comfort of your own home. Instead of going out to a restaurant or relying on takeout, a personal chef will come to your residence and prepare meals specifically tailored to your taste preferences, dietary restrictions, and nutritional needs.
How many guests do you require?
We cater to all sizes, whether it's an intimate dinner for two or a celebration of fifty, as long as you reach our food minimum requirement of $700.00, we can accommodate your event.
How long does the event last?
The whole event process usually takes 3-4 hours from start to finish.
DO YOU PROVIDE THE PLATES AND FLATWARE?
No, we will use what you have available in your home or rental place. We can provide disposables for an additional fee.
CAN I CREAT MY OWN MENU?
Absolutely! If there is something you had in mind that is not in our selection, let us know and we can customize your meal just like you want it.
CAN I CHOOSE DIFFERENT ITEMS FOR EACH OF MY GUEST/S?
Menu selection will be the same for the entire group.
If you or your guest/s has/have any food allergies and/or dietary restrictions, kindly inform us. Substitution will be made accordingly.
WHAT'S THE DIFFERENCE BETWEEN A FULL SERVICE AND DROP OFF?
Full service is when our chef and/or server/s come to your location and prepare and serve your meal for you and your guests. This includes clean-up after your event.
Drop Off is when your menu is packed and delivered to your location, ready to eat, at the time you've instructed. Our chef's will personally deliver your meals!
I HAVE A SMALL KITCHEN; CAN I HAVE A PERSONAL CHEF SERVICE?
Yes, of course! As long as you have a working stove and oven, we can make it happen!
IS THE PRODUCTION FEE THE SAME AS THE GRATUITY?
No, production fee entails preparation, admin, grocery shopping, storage, paper products, insurance, etc. Simply put, unlike in a restaurant where ingredients and items are ordered in bulk, we prepare everything per event.
Indigenius cuisine
Testimonials
We enjoyed a wonderful meal to celebrate our anniversary. Everything was delicious and it was special to be able to enjoy the occasion in our rental at IOP. Chef Roland and Chef Kyle were excellent. Thanks!
Outstanding experience !!!! what an epic evening that they provided to a special group of friends!!! Simply perfect!!!!!
We had Indigenius Cuisine come to our IOP rental to make dinner for our group of 8. The food was delicious and our chef Brett and server Beth did a fantastic job from beginning to end. Everyone was raving about the food. It is not inexpensive, but it was a special experience and was worth it.
Indigenius did an amazing job with my wife and I. The service was incredible and the food was delicious. Would highly recommend them to anyone!
lori catanzarite
2022-06-11
Wonderful food and outstanding service!! Everything was exceptional, we all enjoyed the entire evening, from apps to dessert and clean up, was superb!! Highly recommend !!
Mostly Awesome
2022-04-20
Great catering company, we got a private dinner for 8 and got the steam pot and a side of their Fried Chicken, the Steam Pot was solid but the Fired Chicked was the best I have ever had and I grew up in the Deap South. The Chef was great and we had a good time. Not cheap but totally fair on the price.
Great service. On time (before time actually - just enough to make sure everything was perfect)
I hired Indigenius Cuisine for an at-home dinner party of 6. Their admin staff were very responsive and professional in setting up and managing the event. Our chef for the evening, Raymond, made us a delicious meal, was personable, and professional. I'd use them again.